From White Picket to Chain Link — A Fence Provides Protection, Decoration, Privacy & Borders.
As a full-service tree and landscape company we love taking care of everything in your yard, including your fence installation.
At Artistic Tree & Landscape Creations, we know your yard is important to you. It brings enjoyment to you and your family, and a well-kept yard can also increase your property value.
The white picket fence has become a symbol of the American dream. Today's fences are suited for many purposes, from providing protection and security, displaying boundaries, enhancing aesthetics, and even increasing the value of your home. Whether you're looking for a fence that provides privacy for your entertainment area, safety for your pool, or a place for your kids and dog to play, we can help. We offer a variety of fence installation options to fit your needs and style, including chain link, picket, PVC (vinyl), wood and metal.
As your full-service outdoor guru, we will provide fence materials, design options and installation services that will help define your personal or commercial outdoor space.
Please fill out the form below and someone will be in touch with you within 48 hours. If you have a tree emergency, please contact us at 412-303-4443.
Security
One of the most popular reasons for a fence is protection and security. A fence can keep children and animals on your property, as well as help keep unwanted strangers and animals away.
Safety
Fences are put in place to prevent accidents, such as drowning. Placed around a pool, a fence serves as a warning to prevent people from entering without permission.
Privacy
Your yard is an extension of your home, and a fence provides a barrier from neighbors. It allows you to live your life outside without the ability for others to see.
Decoration
Certain types of fencing add a decorative element that adds curb appeal and extends your style to the outside of your home. A high-quality fence is an investment in the value of your property.
Border
Installing a fence is a creative way of marking your property lines. It also helps plan renovations or additions to the existing space by helping you determine the possible extent of your various projects.
Best Materials for Your Budget & Needs:
Cedar
The king of backyard privacy fencing, cedar is known for its long-lasting look and its promise to never warp or shrink.
Vinyl
Vinyl provides durability in a variety of heights and styles, and the material is highly flexible. Installation must be precise so using a professional is recommended for best results.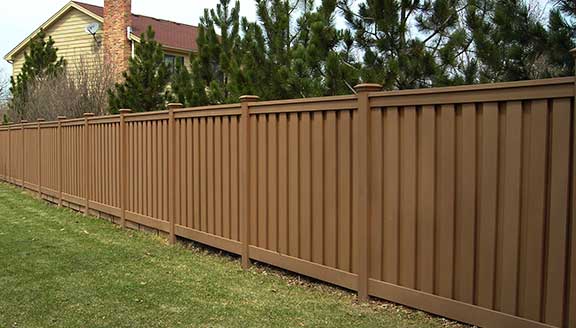 Composite
Composite is made of recycled plastic, wood pieces, and resin combined to create a finished fencing product that looks identical to wood without the inclination to decompose from insects and rot.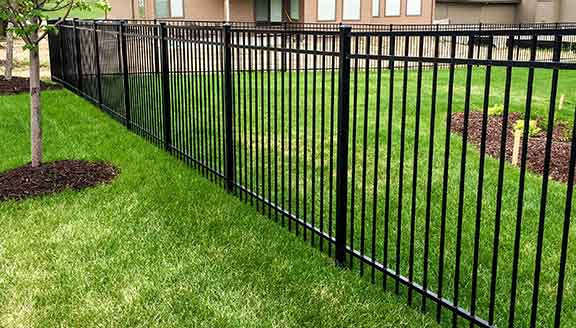 Metal
Metal/wrought iron is extremely durable. The newer metal options include cast iron, aluminum, and steel also provide lasting durability.
Treated Wood
Treated wood is pressure and chemically-treated, a popular choice for outdoor structures such as gazebos, decks and pergolas. When used for fencing, it provides utmost privacy.
Chain Link
Although they do not provide much privacy, chain link fences are good choices for your children and pets' security.
Why Choose Artistic Tree & Landscape?
Often, when installing a fence, brushes and trees are in the way. Most fence companies can't move them, so they snake the fence around the obstacles. The result is a crooked fence that is often unsecured.
Because we are landscapers, we can take care of anything that gets in the way of your fence. We have the ability to remove trees and shrubs, grind stumps, and grade the land. All of this ensures the fence is securely on solid ground.
Our crew of fence installers are experienced and will help you find the best fencing to meet your needs and budget. We are fully insured so you can rest assured knowing you're in good hands.
Contact us today at 412-303-4443 or info@artistictlc.com to help reimagine your outdoor space with the benefits and sustainability of fencing.