Artistic Tree & Landscape Creations is a full-service tree service & landscape company.
Whether you need a tree removed or yard work, with the help of our tree service & landscaping pros, you can do it!
That's what makes us different.
With over 40 years of industry experience, we are committed to providing high quality, courteous and affordable lawn, landscape and tree services throughout the north Pittsburgh region.
At Artistic Tree & Landscape Creations, our goal is to provide you with the solutions you need at a price you can afford. With flexible appointments and a dependable team, we get things done at a time that fits your busy schedule.
We are fully licensed and insured, and are committed to providing you with superior work and service.
Let's work together to create the outdoor space you've always wanted!
Tree Services
Fully insured tree services help maximize your landscape and preserve the health of your trees. Protect your property and family with our emergency 24×7 response team.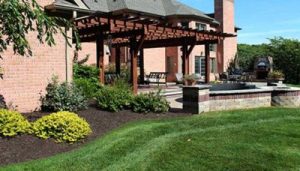 Landscape
Make your first impression a point of pride. Create an outdoor experience that complements your lifestyle without compromising your wallet.
Lawn Maintenance
Take back your weekends with complete lawn services including fertilizing, aerating, mulching, mowing and more.
Hardscaping
From concept to installation, let us help you create a custom exterior that's functional and fabulous.
Want An Estimate?
Please fill out the form below and someone will be in touch with you within 48 hours. If you have a tree emergency, please contact us at 412-303-4443.
Fantastic crews for all projects. Work is well done at a reasonable price. The company is highly responsive and provides detailed estimates. Best landscaper we have had in 15 years. Will definitely chose Artistic tree for all of our landscaping and outdoor needs.
Absolutely perfect! The crew chief, John, was professional and friendly. He checked with us through every step of the process to be sure we were in agreement with his plans. All of the men were efficient beyond the norm. The team left out property in pristine condition, too. Truly a great experience. We would recommend this company to anyone, anytime. They also planted a new tree to replace the one they removed. This is a fantastic company!
I have had numerous jobs completed by Artistic and every job was completed perfectly without any issues. The prices are fantastic and the work crews are respectful, knowledgeable, and fast. John is always very helpful and personable. I highly recommend using Artistic.
We just had John and his crew do work in our housing plan, excellent job done by all the guys. Friendly, knowledgeable, excellent work ethic, and went beyond the call of duty to make us happy. Would highly recommend!
Recent Posts
Jerel
Winter presents risks to the health of trees, shrubs, and landscape plants. Snow and ice accumulated on branches mixed with road sale, is a recipe for damage to all plant life. Although trees are [...]
Jerel
As temperatures drop and trees shed their foliage, most people believe tree care is done until the ground thaws, and buds appear in the spring. Actually,  that isn't true. The safest time to trim [...]
Jerel
It's tree season, which means aside from seeing fallen leaves strewn across yards and roadways, you are also noticing a lot of machines that resemble a spider.  The "spider lift" is an aerial work [...]